Converting Vinyl LPs to CD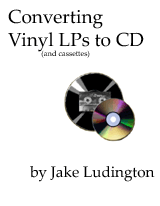 Many recordings have never been re-released on CD. Protect the life of the original recordings by importing them to your computer and burning them to CD. Discover tested techniques for converting records and cassettes when you order this comprehensive resource.
Learn how to connect a cassette deck or record player to your computer.
Find the best audio settings for recording.
Produce great sounding recordings with Adobe Audition, Cakewalk Pyro 2003, Sound Forge, Cool Edit 2000, Plus! Analog Recorder, and Audacity.
Enhance recordings with Noise Reduction to make them sound as good or better than the original.
Find out more...
|
Order this PDF tutorial for $10.00
.