Podcasting Starter Kit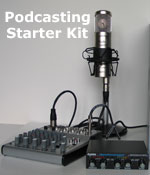 Create YOUR OWN professional podcast! Using affordable software tools and audio gear, anyone can record a podcast and distribute it to millions of potential listeners with no previous audio recording experience. Record your first podcast within hours of reading Podcasting Starter Kit!
Learn the basics of recording audio
Dig into the process of editing recorded voice tracks
Get Listed in iTunes
Discover how to record interviews
Record phone calls with your PC
Master the best free audio software
Publish your podcast
Distribute podcasts using BitTorrent
Find podcast-safe musicians
Develop a subscriber base
Make money with your podcast
Shop for hardware upgrades
Find out more...
|
Order this PDF tutorial for only $30
.