Extend the life of LPs and Cassettes
Extend the life of LPs and Cassettes
When my grandmother passed away, my parents inherited a huge library of LP recordings on vinyl. Many of these albums were never released on cassette or CD, so the music is only available if you have a record player handy. I don't know if you've ever tried playing a record in your car (I have), but you might notice that the music skips frequently and you run the risk of scratching the record. Trying to go for a jog with a record player doesn't work well either. If you have a record collection of any size, I guarantee it contains PRICELESS MUSIC because many great albums have never been re-released on CD. And if you ever scratch a record, forget about replacing it, you just can't find this stuff any more.

Order Converting Vinyl LPs to CD to start making digital copies of your cassettes and vinyl LPs.
How can you preserve the original recordings?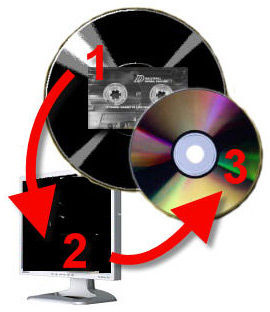 Converting Vinyl LPs to CD shows you a proven method for extending the life of records and casettes.
Our step-by-step guide leads you through the process of preserving your investment in music.
Learn how to connect your record player to your computer.
Find out why you need new software to record with the Ion USB Turntable
Discover proven methods for transferring cassette audio to a PC.
Configure audio settings for optimal recording results.
Engineer great recordings from your records every single time.
Remove pops and other noise from LP recordings.
Eliminate tape hiss
Make your digital tracks sound better than the original!

Start archiving your records now!
Don't forget about all the great music you love!
Give new life to some of your favorite recordings by converting them to digital formats with your computer.
Whether your collection consists of classical masters, aging rockers, or books-on-tape, our guide will add new life to forgotten recorded gems.
Converting Vinyl LPs to CDs illustrates the process of converting cassettes and records using Cakewalk Pyro, Adobe Audition, Sound Forge, Audacity, Plus! Analog Recorder, and Cool Edit. Tons of screen shots from each application make sure you have a visual guide through the conversion process from start to finish.
Converting Vinyl LPs to CD uses tested audio conversion methods
We save you time and money!
Your tutorial on cassette to digital transformation was the best buy I ever made on Internet. Alternatives to copying some of my old audio files involved expensive hardware, clumsy software and impenetrable instructions. Your solution is a model of clarity and simplicity. Thank you! - Mike

Order this guide for $10.00.
Our proven methods work for converting both cassettes and records.
Table of Contents - Converting Vinyl LPs to CD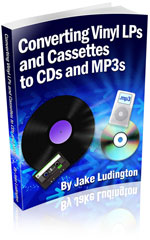 Introduction
I Have a Turntable - Where do I Start?
Troubleshooting
Choosing Recording Software
Converting Vinyl LPs and Cassettes with Spin It Again
Recording with an Ion USB Turntable
Do I Need a Cassette Deck?
Recording LPs Using Audacity
Recording LPs using Cakewalk Pyro
Recording LPs using Adobe Audition
Recording LPs using Cool Edit 2000
Recording LPs using Sound Forge
Recording LPs using Analog Recorder
Converting WMA to MP3
Burning Audio To CD

Order Converting Vinyl LPs to CD now
Which software should I choose?
The most frequently asked question I get is
which software works best?
I walk through six different software choices, each with their own strengths.
I currently use Adobe Audition for all my audio editing needs. It includes features designed for recording live music, a comprehensive loop library with more samples than the often discussed Garage Band software from Apple, and some of the best noise reduction available. At $299, I realize Audition is out of the price range many people are interested in spending.
Two other great alternatives are Audacity and Spin It Again:
Audacity converts records and cassettes for free
In this guide, I show you how the freeware audio editor, Audacity, will convert your records and cassettes without any additional software costs. Just
download Audacity
, and then download Converting Vinyl LPs to CD for step-by-step instructions on using this
amazing free software tool
.

Order Converting Vinyl LPs to CD
to find out how Audacity can convert your records and cassettes.
Spin It Again is an end-to-end LP and cassette conversion solution.
The record interface is simple to understand.
Spin It Again improves recording with an Ion Turntable
Splitting LP tracks is easy.
Noise reduction works automatically.
Burning CDs is built in
Download Converting Vinyl LPs to CD and learn how to convert your music cassettes and records.