Plus! Analog Recorder Tutorial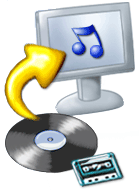 Do you own Microsoft Plus! Digital Media Edition or Plus! Super Pack for Windows XP? Both bundles include a great tool for converting LPs and cassettes to WMA format digital audio files. Microsoft created one of the best tools for converting your old records and cassettes to digital formats, but it has a few idiosyncrasies that need to be ironed out.
Our free HTML tutorial steps you through the process of using Plus! Analog Recorder, Plus! Audio Converter, and Windows Media Player to create digital recordings of your analog audio.
View this free tutorial online now.