Save Part of an Audio File
"One of our associates was interviewed on a radio program, and the show was podcasted. I have saved the podcast to ITunes and burned a CD, but the show is an hour long, and we only want the last 30 minutes. Is there a way we can create a file or disc with only that portion?"
Editing a segment out of an audio file is relatively easy if you have the right software installed. You can save any part of an audio file, including a clip from a podcast, by first opening the file in an audio editing application and then deleting the portion of the file you don't want to keep. By There are several free apps which will do the trick, but I like one in particular.
WavePad is my top recommendation for editing files like this because the interface is straight forward and the knowledge required to accomplish you edit is minimal. Before you can edit the file, make sure you download and install WavePad from the link above.
After you launch WavePad on your computer, you're ready to save a segment of the audio file. First open the complete file in WavePad. In the WavePad interface, select the portion of the file you want to remove from the audio clip. Delete the section of the audio you just selected by clicking the delete button in WavePad. Save the edited version of your audio file with a new name (to make sure you can re-edit the original if necessary) and burn your new edited file to CD.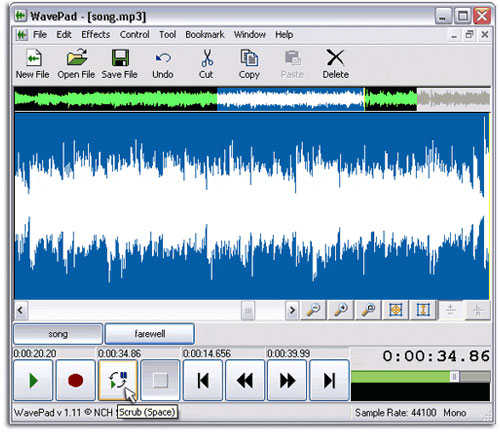 If you need a more full featured audio editing solution, with the ability to create your own music from loops, you might also try Mixcraft.