Media Center Alternatives
"I have Windows XP and don't want to buy a new operating system to get Media Center functionality. What are the best alternatives to Windows Media Center Edition that I can install on my existing operating system?"
Adding the ability to record television on your computer, browse photos and videos from the comfort of your couch, and quickly integrate your digital music library with your home theater is one of the more useful advances in computing over the last several years. I personally prefer Windows Media Center Edition for all my PC home theater integration, because it integrates with my Xbox 360 (which means I don't need a PC in my living room) and because it is the most elegant solution on the market. I can certainly understand not wanting to spend additional money on a new operating system just to add Media Center-like functionality to an existing computer. I continue to recommend two alternatives to Windows Media Center Edition as the best options for integrating with Windows.
Beyond TV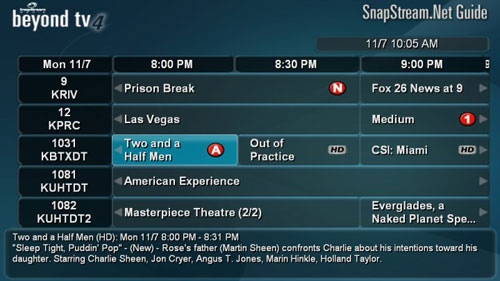 SnapStream Beyond TV was one of the first home theater PC products on the market and it remains one of the best solutions for people who don't have Windows Media Center Edition. One of the things I don't like about Beyond TV is all the extra stuff you have to buy to get feature parity with Windows Media Center Edition. For instance, if you want to manage photos and music, you need Beyond Media in addition to Beyond TV. Some of the core features include:
Commercial Skipping with 30-second fast forward of recorded shows and live television. This also comes in handy for skipping the open title sequence on shows or anything else you'd rather miss.
Scheduled recording of shows and entire seasons of programming.
Fast-forward and Rewind You can fast forward or rewind if you're interrupted by a phone call or the kids while watching your favorite show.
Burn Shows to DVD with an add-on that integrates DVD burning directly in Beyond TV.
Smarter Searching for shows you want to watch by title or keyword through all available guide data.
Record Over-the-air HD using an HDTV tuner card and antenna to get local HD content.
Take TV with you Anywere by copying files to your favorite portable device or by using the free Orb software to access recorded shows from any Windows device with an Internet connection. This feature combines Slingbox-style place shifting of video with the Tivo to go concept of taking recorded video files with you.
Multiple Tuner Support allows you to watch and record more than one show at a time. Windows Media Center only supports this functionality in the Vista version.
Schedule Recordings Remotely when you're not in front of your PVR computer. Beyond TV includes a Web interface for scheduling recordings from any Web browser, including Web-enabled cell phones.
SageTV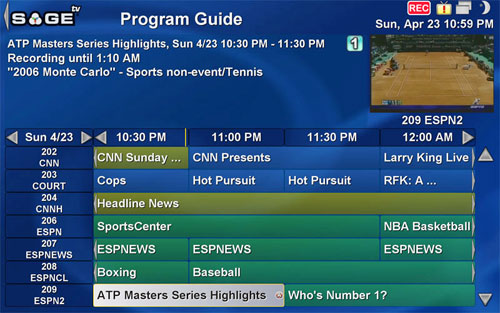 SageTV has a number of features that set it apart from Beyond TV. In addition to being a PVR, SageTV includes support for managing music and photos as part of its core package. SageTV also includes parental controls to govern playback of content. Some features of SageTV include:
Commercial Skipping to get back to watching shows quickly.
Fast forward and rewind for repeating content when you're interrupted or skipping ahead when you want to avoid boring parts.
Scheduled recordings of single shows or entire seasons, including a smart scheduling feature that suggests programs you may also like based on your recording habits.
Search customization for searching by favorite actor, category, or keyword.
Media management features including music management, local DVD playback, picture browsing and slideshows, integrated weather reports, and visualizations during music playback.
Over-the-air HD support provides high definition content with a high definition tuner and antenna.
SageTV Placeshifter supports live and recorded television playback from any Mac or PC for an additional $20.
Multiple tuner support for recording and viewing more than one show at a time.
Choosing A Media Center Solution
Beyond TV and SageTV match up very closely in features. While Beyond TV bundles support for playback on other devices (via Orb) as part of its core package, it requires an additional purchase of support for music and photo browsing capabilities. SageTV bundles photos and music and requires a purchase of its Placeshifter app for around the home sharing. Beyond TV does a better job of automating sharing of recorded files to portable devices. Beyond TV includes remote access for scheduling recordings from anywhere. Both apps support multiple television tuners. SageTV includes the Tivo-like feature of automatically recording shows it thinks you might like. SageTV offers a slightly more elegant enterface.
Bottom line here is that both Beyond TV and SageTV do an excellent job scheduling recordings and managing recorded television. Guide browsing in either option is superior to all the cable boxes, with the possible exception of Tivo-powered DirecTV. Beyond these core features, you need to look at both for which extras you think you might want bundled with your $70-80. If you feel like splurging, you can hit feature parity around $99.