CamLeash Digital Camera Strap
CamLeash was one of the most practical things I saw a CES 2008. Every point-and-shoot digital camera ships with a wrist strap, but I find the factory straps useless because they don't hold your camera in place. CamLeash addresses this by fastening securely to your wrist and including a snap-away plastic latch to allow you to disconnect your camera from the neoprene strap around your wrist. This comes in handy for taking a camera hiking, to the beach, or to places where you might be more likely to drop your camera.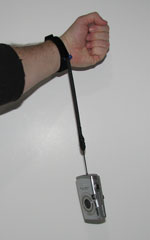 CamLeash would also be a great accessory for taking a camera underwater (with proper housing, of course), where you'd want to be sure your camera didn't slip off and disappear into the surf. I'd like to see the company include several of the little strings for the camera side of the leash in every pack, so I could easily swap between one of several cameras, but you'll likely see me toting a camera on the end of a CamLeash on a regular basis. The company also suggests the same solution (branded as GameLeash) makes an excellent strap for Nintendo DS and Sony PSP portable gaming consoles. At $12.99, the LeashTec straps are far cheaper than replacing a dropped camera.