HP Data Vault Giveaway
I'm giving away an HP Data Vault! Read on to find out how it could be yours.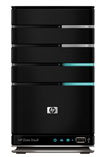 Back in January I posted my review of HP's Data Vault, which is a small business backup and storage server from HP. As a dead simple way to configure backups on your business network without needing to hire an IT guy to provide support, Data Vault shines. It also works great as a solution for sharing music across your business network, which might be a viable alternative to having office bandwidth used up by Pandora and other streaming services. A three-year warranty helps guarantee you'll have support for your data protection and integration with KeepVault extends Data Vault with online data backup, providing an offsite backup of data in the event of fire, flood, or other site disaster.
The rules of the Data Vault giveaway are simple - post a comment to this entry explaining a data loss disaster. If you've ever had a hard drive fail, a digital camera memory card lose your photos, or a soft drink spilled on your laptop keyboard, you've got a great story to tell about data loss.
To qualify you will need to use your real email address when leaving the comment so that I can contact you if you are chosen (don't worry, the email address doesn't show up publicly in the comment). The recipient of the Data Vault will be selected at random from all people who leave comments on this post.
There are two additional criteria: (1) If the anti-spam software I use to filter comments determines your comment is spam the comment is automatically disqualified. (2) A person may only submit one entry. Entering more than once automatically disqualifies you.
To qualify, you must submit your data disaster story in the comments of this post no later than 11:59 p.m. on 25 April 2010. The recipient will be notified via email sometime after 12:01 a.m. on 26 April 2010.
In addition to giving away a Data Vault, there will be separate awards of an HP Mini 311, Smart Wi-Fi Display, and HP Shirt for the subjectively determined best data disaster stories.
And if you don't happen to be the lucky person who takes home the Data Vault from this site, keep your eyes peeled for contest announcements coming from:
1) Hardwaresphere
2) Slashgear
3) Geekazine
4) Absolutely Windows
5) Gottabemobile
With that, share your data loss disaster below: