Ultraportable Affordable Laptops
I picked up an Asus EEE PC to provide a highly portable solution for when I need access to check on my online world (the one that pays my bills). At under $400 it's a great solution for simple tasks like checking server status, making a post or two, reading and responding to email, and even some light photo and video editing. People who have seen me with the EEE PC asked my why I chose it over the OLPC laptop being pushed by the One Laptop Per Child folks. The photos on Toni Schneider's blog tell a good portion of the story - the OLPC is too big for what I want.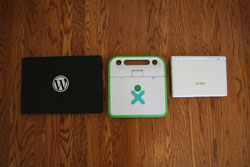 The OLPC price is right in theory, as they were running a special where you could get 2 for $400 with one donated to the One Laptop Per Child program. But this was a business purchase decision - I needed something that fit in the same bag I pack my cameras when I'm traveling. The OLPC won't cut it. I'm also not sold on the rubbery keys and Teletubbies design, but that might be a personal thing.