Tivo Toaster and Roxio Toast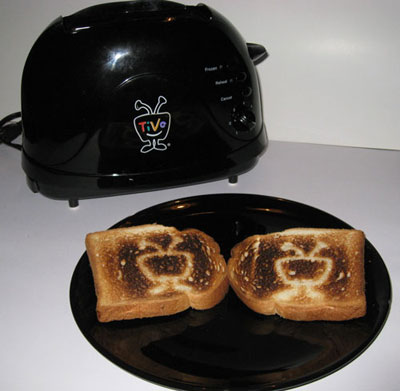 Sometime in July I got a box from Roxio. I didn't open it until last week. Inside was a black toaster with the Tivo logo on the side. I thought it was strange and then remembered that Roxio's Toast burns Tivo shows to DVD. Still strange that I get a toaster. Then I get back from Hawaii and my kid tells me the toaster burns the Tivo logo into the toast. I've suddenly got one of the geekiest toasters on the planet. I'm not sure how anyone else gets one because they aren't listed as a Tivo rewards prize or anywhere else on Tivo.com. I can't be the only one who has a Tivo toaster. Any hardcore Tivo heads out there eating Tivo toast for breakfast?
BTW, if you're in the market for Roxio Toast or any of their other products, be sure to use coupon code SAVE10ROX to save 10% on everything at Roxio.com. (Yes, I am a member of the Roxio affiliate program, but I don't know why I got the toaster).