Build a Secret Bookshelf Compartment
It may be incredibly trendy to build a home theater, but part of me still dreams of having a large library in the house. No library is complete without a secret shelf or two hiding treasures behind the wall. Now one might argue the water heater isn't a cool secret stash, but you can't deny the ingenuity of creating a wall full of shelves and incorporating a secret door connected to an old Sherlock Holmes story.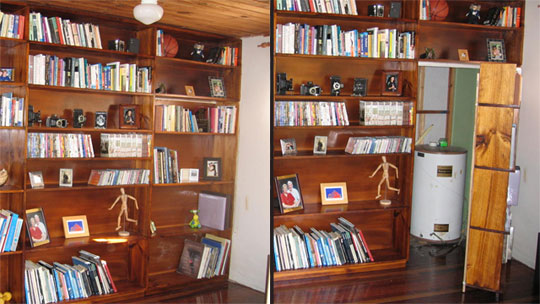 Update 2012 June 03: This secret door shelf project originally appeared on a site called Per Vivere, which I was referred to by PT from Make Magazine. Over the years, Per Vivere was redirected to another blog, which is also now gone. In the years since I originally posted this, there are now companies making it easy to integrate shelving into spaces designed for doors. My house doesn't have a great location for a secret door, though I may consider incorporating one into a guest house above the garage someday.