Etymotic hf2 iPhone Hands-Free Headset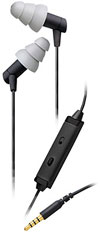 With both California and Washington requiring some sort of hands-free device for all drivers as of July 1, 2008, a large percentage of iPhone owners need a viable hands-free solution. Many of the hands-free options are considerably cheaper than the Etymotic hf2, but all those options also sound awful. I dread talking to anyone using a Bluetooth speakerphone because there's always an unnecessary amount of repeating involved. Bluetooth wireless headsets are better, but they don't play to the iPhone also being an iPod. Etymotic gets it right, offering a wired headset with inline microphone, for stereo listening to music, or receiving and placing calls as they come in. When you're driving, simply remove the second ear bud and stay connected to safely answer phone calls. You'll shout less while wearing the hf2 headset because it blocks noise just like other Etymotic headphones. If you don't have an iPhone, the Etymotic hf2 headset works with any device with a 3.5mm plug.
Available direct from Etymotic Reasearch for $179. Retailers like Circuit City also tend to have them available.