GarageBand for iPad
"Is there a version of GarageBand for iPad? I'd really like to make music with my iPad and I love GarageBand on my Mac."
Apple makes versions of GarageBand, iPhoto, and iMovie for the iPad. In each case, they adapted the familiar Mac version of the interface for a touch screen experience, including a new series of Touch Instruments. With an iPad accessory like the iRig, you can even plug a guitar into your iPad and record. Each project can have up to eight tracks.
The touch-capable instruments are great for tapping out drum tracks, playing guitar and piano chords, or mixing tracks with numerous virtual instruments. Much like the Mac version of GarageBand, there are 250 loops you can use to create backing tracks to your own original recordings.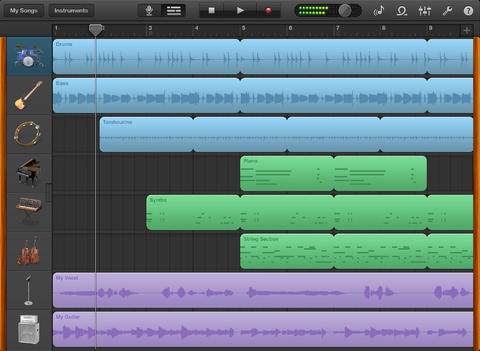 There's even a feature of the iPad version that lets you collaborate with up to three other musicians over WiFi. One person is designated bandleader, the person who defines the tempo, time signature and key of the performance. The bandleader can then combine your individual tracks at the end for a complete song.
You can also use GarageBand on an iPhone or iPod, though I find the screen size to be more limiting in those form factors. At $4.99, GarageBand for the iPad is a pretty great deal. The only possible downside to GarageBand on an iPad is all the space those recordings take up on the iPad's fairly limited storage. You can overcome this limitation by sharing your recordings back to a Mac or saving them to iCloud.
Alternatives to GarageBand for the iPad
If you're a musician who wants to create quick scratch tracks using your iPad and the built-in microphone, StudioMini XL Recording Studio may be exactly what you're looking for. It includes some built-in drum beats coupled with faders that allow you to control various components of your song as you build it. Up to 8 tracks, including the drum track, are supported for building your songs. A metronome and count-in will help keep time. If you decide your recording is a keeper, there's a convenient copy to Mac or PC via WiFi feature. While not perfect, it's StudioMini XL is a great way to get started for $8.99.
Download Studio Mini XL Recording Studio from iTunes Music Store
A second, slightly more expensive, alternative to getting a GarageBand app on your iPad is Harmonicdog MultiTrack DAW. It supports up to 24-track recording. You can bring in external audio to work with MultiTrack DAW either via WiFi, by copying from the iPod library, using iTunes File Sharing, or copy/paste from another app. Looping is supported. Time signature manipulation. Maybe the most important feature is access to USB audio by way of the Camera Connection Kit. Output can be compressed to OGG for easier portability.
Download Harmonicdog MultiTrack DAW from iTunes