Westinghouse LVM-37W1 HDTV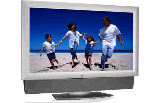 At CES 2006, the new "new thing" in TV land is 1080p screens as standard. Felix Torres of DigitalMediaThoughts.com takes an indepth look at a 37-inch Westinghouse screen and comes away reasonably impressed. I'm not entirely sold on the idea of LCD HDTV, because the black levels just aren't on par with the colors you get from plasma screens. Still the image quality blows away anything we've seen in the average living room prior to the new millennium. On the plus side, you do get a much more affordable HDTV screen with LCD and 1080p is one direction a large section of the industry is banking on.
From the article:
Last January, at the Annual Las Vegas Consumer Electronics show, a handful of companies announced and displayed a variety of High Definition displays running at the once-futuristic native resolution of 1080p. They were not the first to do so; super-premium niche displays had been available at extreme prices for years, and Sharp Electronics had been marketing a high-end 45" LCD display with that same native resolution for months. What made the new displays at CES notable was that they were intended to sell in volume at the same prices as the currently available 720p models of similar size.
In other words, these new models are intended to mainstream native 1080p displays; a pretty tall order at a time when even true 720p content is far from common and the content in native 1080p can be easily listed on a few sheets of paper. One of the displayed models in particular drew skeptical looks because of the listed specs, the pricing, and the source: Westinghouse Digital was promising to deliver by mid-2005 a 37" 1080p LCD display for under $2500, the same price-point of their previous 32" 720p offering.