Extend the life of VHS, VHS-C, and 8mm Movies
Extend the life of VHS, VHS-C, and 8mm Movies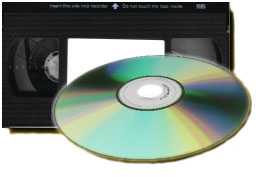 Did you know that most VHS tapes wear out after 10-15 years - even if you NEVER WATCH THEM!?! A friend of mine lost his wedding video forever because it was recorded on a VHS tape and he waited to long to convert it to digital. His wife was furious when she found out! It was about that time I started doing research on converting VHS tapes to DVD. I don't want that to happen to anyone else, because nothing can prevent your VHS tapes from wearing out.

Order Converting VHS to DVD for $10.00 to start converting movies today!
Some movies can't be replaced
Thousands of great movies are still not available in DVD format. The movie studios simply don't have plans to rerelease old movies in new formats.
You can upgrade your movie collection by converting movies to DVD yourself.
Family memories are lost forever when video tape gets damaged!
Your baby's first steps, child's graduation, or daughter's wedding video are probably recorded on a VHS tape. When the tape wears out, all those precious memories will be gone.
Don't let time take its toll on priceless memories.

Order Converting VHS to DVD for $10.00 and start protecting your movies immediately!
Convert all those old VHS movies to DVD!
We show you:

The right hardware to convert VHS to DVD.
How to make sure you have enough memory
Editing techniques to create professional looking video
Professional DVD burning techniques
Software tools for making DVDs
How to connect your VCR or camcorder to a PC
The best software for authoring DVDs

Order this comprehensive guide now!
Learn how to create DVD menus, add background music to your movie, and enhance the viewing experience of special family moments. With this guide, you can even remove some of the embarrassing moments you'd like to forget.
Jake Ludington, Microsoft Digital Media MVP and author of Easy Digital Home Movies, provides all the information you need to preserve your home movies in simple steps.

Order Converting VHS to DVD and preserve your memories.
More benefits of converting your video tapes:
Never rewind another tape
Immediate access to the best scenes in your favorite movies
Share home movies with friends on DVD
Email movies to friends and family

Order this comprehensive guide now!
Table of Contents - Converting VHS to DVD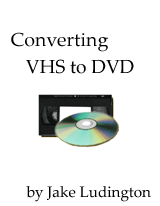 Introduction
Your Computer
Processing Power
Memory
Hard Drives
Analog Capture Cards
Analog Capture
Using Your Digital Video Camera and FireWire
Recording Your VHS Tapes to DV Tape
Using Your DV Camera as a Pass-through
Editing Your Video
Burning Your DVD
Authoring Your DVD With Sonic MyDVD

Order Converting VHS to DVD now
Capturing old VHS movies isn't just for preservation; it adds new life to forgotten video.
Import VHS movies to your computer
Share movies via e-mail
Publish movies to the Web
Mail DVDs as holiday gifts
The options for sharing your video are unlimited! Converting VHS to DVD shows you how.
Download Converting VHS to DVD. Find out how to extend the life of your home movies.