Microsoft Plus! Analog Recorder Part 5
Microsoft Plus! Analog Recorder Part 5
Burning Audio To CD
In Step 6 of the recording process, we had the option to create a Windows Media Player playlist of the tracks converted from cassette or LP. Assuming you did this, burning the tracks to CD is simple.
Step 1: Open Windows Media Player 9.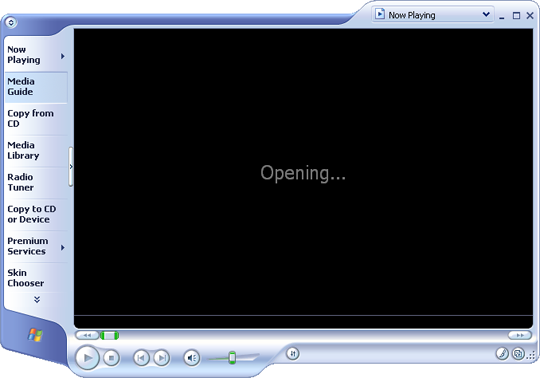 Step 2: Click Copy to CD or Device
This can also be accomplished by navigating to File/Copy/Copy to Audio CD...
Step3: Choose the playlist you want to burn to CD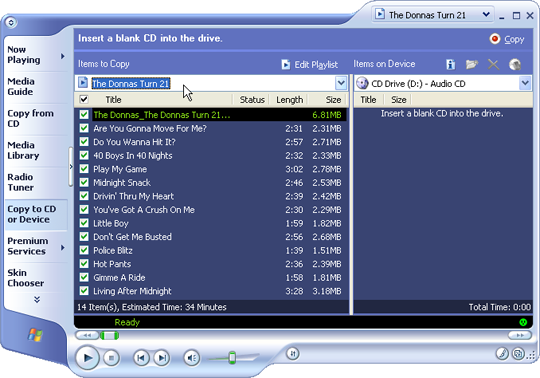 Step 4: Insert a blank CD in your CD burner
If you don't have a CD burner, the local computer store will have one for under $50.
Step 5: Choose the type of CD you want to burn
In the right hand drop down menu, select the type of CD you want to burn.
Audio CD is recommended for playback in your car or home CD player. Data CDs are great if you have a DVD player or portable CD player with WMA and/or MP3 support, because of the huge number of tracks that fit in either format.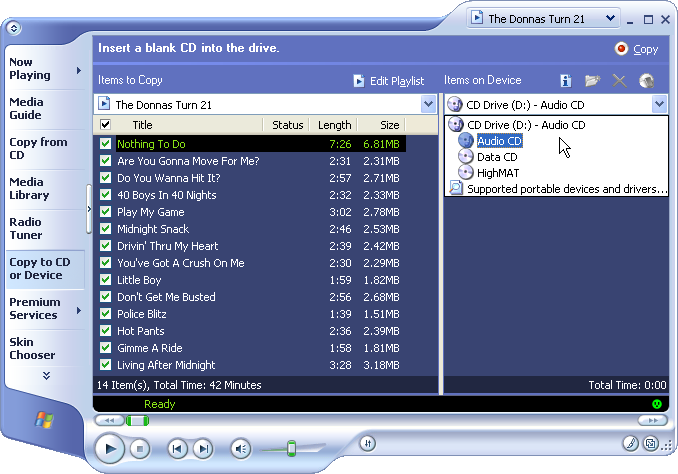 Step 6: Click the Copy button.
It takes a few minutes to copy the audio tracks to CD. When the process is finished, test the CD out in your home CD player or in your car, to make sure it plays.
Conclusion
Now that you've completed the entire process once, you're all set to copy your entire analog audio library. Just repeat these steps for each record or cassette and before long you'll have a digital library to rival your record collection.