Using Microsoft Plus! Analog Recorder Part 4
Using Microsoft Plus! Analog Recorder Part 4
Converting WMA to MP3
I couldn't find a suitable free solution for converting WMA to MP3. Plus! Digital Media Edition includes Plus! Audio Converter, but it only converts to WMA without purchasing a third party MP3 codec. For $9.95, this isthe easiest solution available.
Microsoft recommends three different codec vendors: CyberLink, interVideo, and Sonic. All three products are virtually identical, although Sonic's CinePlayer MP3 Creation Pack is priced $5 higher. I chose CyberLink because I'm a longtime user of their PowerDVD product.
MP3 Codecs At-A-Glance
MP3 PowerEncoder
170KB $9.95
Created By: Cyberlink Corp
Player Version: 9 Series XP

Copy music to your PC into MP3 format with Windows Media Player.
MP3 XPack
170KB $9.95
Created By: Intervideo, Inc.
Player Version: 9 Series XP

The MP3 XPack instantly adds the versatility of MP3 encoding (or 'ripping') to Windows Media Player with full support for features such as media information and folder creation.
CinePack MP3 Creation Pack
170KB $14.95
Created By: Sonic Solutions, Inc
Player Version: 9 Series XP

Create your own MP3 library by instantly adding high quality MP3 encoding (ripping) to your Windows Media player.
The MP3 codecs are actually Windows Media Player plug-ins. Audio Converter is a pretty face for this Media Player function, simplifying the process of converting groups of WMA files to MP3 or vice versa.
To convert your files from WMA to MP3 follow these steps:
Step 1: Open Plus! Audio Converter
Start/All Programs/Microsoft Plus! Digital Media Edition/Plus! Audio Converter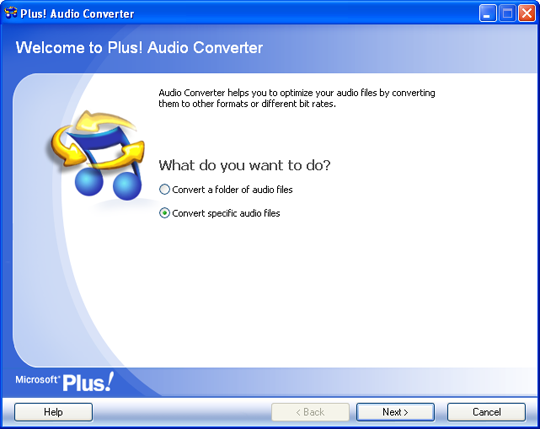 Click Next
Step 2: Add the files you want to convert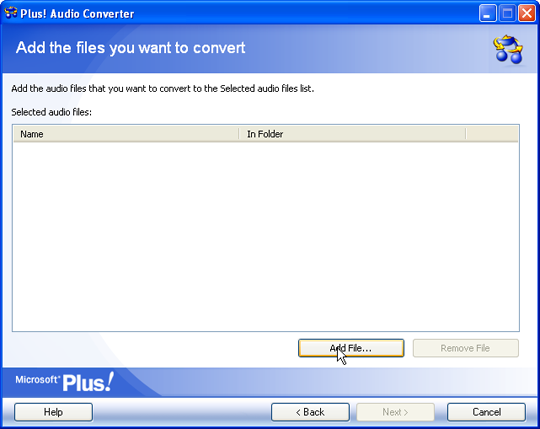 Click Next
Step 3: Select your conversion options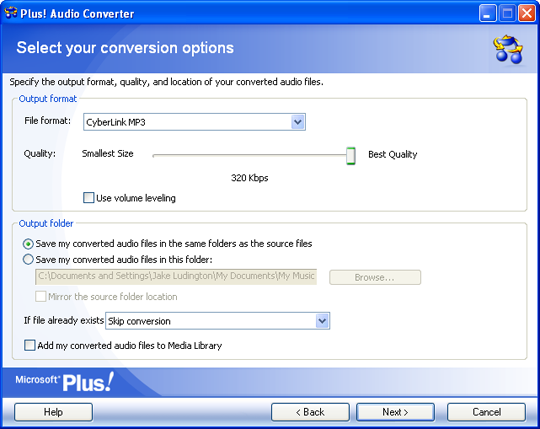 Choose the file format you want to convert to. I'm converting from WMA, so I choose CyberLink MP3.
I want to keep my files at the best possible quality. 256Kbps is considered near CD quality, so I could easily lower the quality below 320 Kbps, saving on disk space, without any perceptible degradation. Since I have hundreds of gigabytes free, disk space isn't really an issue, so I leave the setting at 320.
Choose the folder you want your files saved in.
I unchecked Add my converted files to Media Library because I don't need to have two versions of the same audio cluttering up my Library catalog. This is a matter of personal preference.
Before you convert to MP3:
If your portable devices support WMA playback, I recommend keeping the audio in WMA format. WMA compression and quality are superior to MP3.
Step 4: When all files are converted, exit Audio Converter.