Audio and Video Answers - 10th Anniversary Edition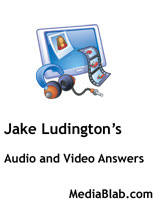 PC Audio and Video are frustrating. Over the years of writing my Digital Lifestyle newsletter I've answered hundreds of reader questions on everything from common Windows frustrations to specific issues in dealing with audio and video problems. Eliminating the frustrations quickly so you can get back to watching video, creating home movies, archiving your music collection or simply enjoying your computer is the primary aim of this ebook: Audio and Video Answers.
In celebration of 10 YEARS publishing Jake Ludington's Digital Lifestyle, I've put together a 450+ Page limited time 10th Anniversary Edition of Audio and Video Answers. This special edition includes:
Audio and Video Answers Volume 3 - a 250+ page guide packed with answers
Converting Vinyl LPs to CD - my bestselling guide to converting your music collection
Mastering Movie Maker - a step-by-step video editing guide
Podcasting Starter Kit - 100 pages of podcasting instruction
The individual guides bundled in this special edition sell for a combined $77.00. I'm extending the anniversary celebration and allowing you to name your price for this information. When you add the ebook to your shopping cart, you can either pay full price, or you can enter any amount you feel the information is worth to you personally.