1 Click Sweep - Ultimate Privacy Protection

Download Maximum Privacy Protection!


Order 1 Click Sweep
Save $5 when you order 1 Click Sweep using coupon code JAKEDIGITAL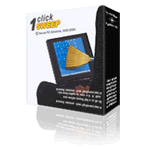 1 Click Sweep is the complete solution for you to wipe useless files, delete private online and offline records and maintain your privacy in one fast clean sweep! 1 Click Sweep is the ultimate tool to irretrievably delete files to ensure their total unrecoverable elimination, safely clean your hard drive, free up disk space and improve the performance of your system. With just 1 click.
Privacy Protection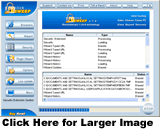 Clean autocomplete forms - logins, user names, passwords and other personal information entered at web sites and keywords entered at search engines.
Delete temporary Internet files.
Erase cookies. Your favorite cookies may be safely kept.
Clean history - lists of visited web sites. Your favourite web sites may be safely kept.
Clean lists of recently started programs, search results, recently opened documents, clipboard content, etc.
Immunize against spyware
Security Guard
Irretrievably deletes files to ensure their total unrecoverable elimination, using one of the following erase algorithms:
Quick Sweep
Russian GOST P50739-95
US Department of Defense sanitizing standard DoD 5220.22-M
Peter Guttman's Secure deletion of Magnetic and Solid-State Memory
Clear directories entries
Wipe cluster tips - free parts of file clusters.
Free disk space.
Permanently Erase Sensitive Data

Wipe unused space of several disks through one single wipe task. Verify and select information before irretrievable wiping. Delete temporary files created by Windows and other programs. Delete offline content. Erase links to files opened by MS Office, standard Windows applications, and other frequently used tools to prevent easy discovery of private information.
Automate Tasks with Scheduling
Setup predefined wipe lists - lists of files and folders that are wiped through one single task.
Setup predefined times for wipe tasks performance - erasing procedures are launched in scheduled times as a background task.
Works with Windows 98, Me, NT, 2000 and XP