CaseSmpl iPad and Kindle Fire Case Review
For those of us who own a tablet computer, a case is a necessity you can't be without. Sure the iPad Smart Cover offers a clever solution for protecting the screen, but it doesn't do anything to protect the rest of your iPad. Seven inch tablets, like the Kindle Fire and the Nook Tablet need protective cases too.
After trying a bunch of different cases along the way, I wound up using the CaseSmpl eReader ballistic nylon case for my Kindle Fire. The case goes beyond the simple protective cover and offers additional storage for many of the things I keep with me all the time. The iPad case offers similar protection and even more additional storage because of the size difference between the Kindle Fire and iPad.
I first learned of the CaseSmpl cases in May when I was back in Iowa for a family gathering. The company is based in the Des Moines area and manufactures the cases in Chicago. One of the first things that caught my eye about the cases is a hand strap feature, which you can see in greater detail in the video below. This strap goes along way to preventing accidental drops when you are carrying the case.
CaseSmpl Materials
CaseSmpl offers two different external case designs. One is Leatherette, which is a synthetic leather material. The case material I prefer is the Ballistic Nylon, which is highly durable and seems less likely to show wear over time.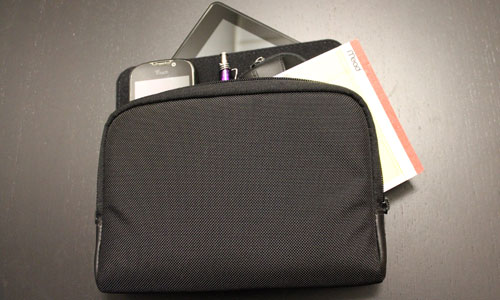 CaseSmpl Space
As some of you may know, I typically wear cargo pants, which gives me plenty of room for carrying extra stuff, like headphones, a notepad, and sometimes even my Kindle Fire. When I wear jeans, I still want to have this stuff with me, but it's more difficult to find the space. In the picture above, I attempted to demonstrate all the stuff I carry in my eReader case. I routinely have my Kindle Fire, my phone, a pen and paper, and my Etymotic headphones. Sometimes I carry other random items as well. When I travel, I generally have both the Kindle Fire and my Kindle Touch
This ability to bring both small devices and protect them in one case is attractive because it saves space when I travel. As I've mentioned in the past, I love being able to carry everything in a single bag. With the CaseSmpl eReader case, I put everything I want to have with me in my airplane seat in the case, which keeps all my other travel gear neatly packed.
The same holds true of the iPad version of the case. You can fit an iPad with Smart Cover in the CaseSmpl Tablet case, along with any accessories you might need to carry with you on a regular basis. The CaseSimpl Tablet cases also hold an 11-inch MacBook Air if you prefer a small computer to a tablet, though the company also makes an Ultrabook case for thin 11-inch and 13.3-inch computers.
For a better idea of what the case looks like in action, watch the video.