Easy Digital Home Movies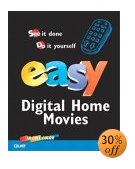 Author: Jake Ludington
ISBN: 0789731142
Published: Jun 11, 2004
Copyright 2004
Pages: 224
Edition: 1st.
Book Description

Download Chapter 1 in PDF Format!
Find out what you need to know before buying a digital video camera. Learn the tricks to creating great movies. Create your own DVDs. Convert VHS, Hi8, and Super8 movies to digital. Discover video editing tricks, add special effects, and create custom titles. Make photoslide shows complete with special effects and soundtrack music. Send movies to friends via email or carry them with you on a Pocket PC. Get more out of your computer with this comprehensive introduction to computer video editing.
Find the lowest price on Easy Digital Home Movies!
Book Description
With a digital camcorder, Windows XP, and Easy Digital Home Movies, any user can be making movies in a matter of hours.
Consumer digital video cameras are available for prices starting below $300, and Windows XP includes a full-featured non-linear video editing application, Movie Maker. These two significant developments in consumer digital media mean home movie making is available to virtually everyone with a DV camera and a computer.
While Windows XP does offer users a great application for editing home movies, it doesn't come with a clear explanation of how to do it. This book provides detailed instruction on how to capture and edit home movies using Windows Movie Maker 2. In addition to the editing process, the book demonstrates how to e-mail movies, stream movies on the Web, and transfer movies to DVD for archiving and later viewing.
Download Chapter 1 for free
Order Easy Digital Home Movies on Amazon.com
Table of Contents




Identifying "Can't Live Without" Camcorder Features. Picking the
Right Tripod. Using the Zoom Feature. Using the DV Camcorder LCD.
Using an External Monitor. Extending Battery Life. CCDs Matter.



2. Shooting Digital Movies: Basics.



Planning Your Shot. Positioning the Camcorder. Properly Framing
Headroom. Properly Framing Nose Room. Shooting a Wide Shot.
Shooting a Medium Close-up Shot. Shooting a Close-up Shot. Creating
an Over-the-Shoulder Shot. Creating an Establishing Shot. Creating
a Cutaway Shot. Shooting Video in 16:9 Format. Shooting Video in
4:3 Format.



3. Shooting Digital Movies: Advanced.



Achieving Proper Lighting. Using an External Microphone. Using
an External Clip-on Microphone. Monitoring Audio with Headphones.
Connecting a Digital8 Camcorder to Your PC with FireWire. Recording
8mm (Super8) Projection Movies with a DV Camera.



4. Importing Video.



Connecting a DV Camcorder to Your PC with FireWire. Connecting a
DV Camcorder to Your PC with S-Video. Creating a New Project in
Windows Movie Maker. Capturing an Entire DV Tape. Capturing a Movie
Segment. Organizing Your Video Files. Importing Still Photos.
Importing VHS Movies with a DV Camera. Importing VHS Movies with a
USB Device. Capturing Live Video.



5. Exporting Video to Tape or CD.



Preparing Your DV Camera to Save a Movie. Saving a Movie to Your
DV Camera. Connecting a DV Camera and VCR for Recording to VCR.
Saving a Movie from DV Tape to VHS. Saving a Movie to CD.



6. Editing Video with Windows Movie Maker.



Adding Movie Clips to a Project. Removing Clips from a Project.
Adding and Removing Clips on the Storyboard. Removing Collections
from a Project. Copying a Clip on the Storyboard. Using the
Timeline. Adding a Clip to the Timeline. Removing a Clip from the
Timeline. Preparing an AutoMovie. Customizing an AutoMovie. Saving
an AutoMovie. Splitting a Movie Clip. Combining Two or More Movie
Clips. Trimming Movie Clips.



7. Effects, Transitions, and Titles.



Insert a Transition Between Clips. Adding Dissolves Between
Clips. Adding Fades Between Clips. Adding Titles to the Beginning
of the Movie. Adding a Title Between Movie Clips. Adding a Title to
a Movie Clip. Adding Credits to Your Movie. Creating Custom Titles
in Microsoft Paint. Creating Title Slides with PowerPoint. Adding
Custom Titles to the Movie. Adding Effects to Movie Clips.
Converting Your Movie to Black and White. Enhancing the Brightness
of the Movie. Adjusting Contrast with Pixelan Effects. Applying
Color Correction with Pixelan Effects.



8. Adding Audio to Your Video.



Narrating a Video. Adjusting Audio Volume. Setting Audio Levels.
Adding Audio Effects. Muting Audio Tracks. Extracting Music from CD
with Windows Media Player. Importing Music in Windows Movie Maker.
Adding Music to the Timeline. Trimming Audio Clips. Making an Audio
J-Cut. Making an Audio L-Cut. Preparing the Soundtrack for
Normalization. Normalizing Audio with Roxio Easy Media Creator.
Adding the Normalized Soundtrack to Your Movie.



9. Still Photos and Video.



Connecting Your DV Camera via USB. Using a Flash Card Reader.
Importing Still Photos. Creating a Still Photo from Video. Make a
Photo Slideshow. Adding Motion to a Still Image.



10. Making DVDs with Sonic MyDVD.



Starting Sonic MyDVD. Inserting Movies in a DVD Project.
Changing the Main Menu Text. Changing the Main Menu Style.
Customizing Menu Buttons. Adding a Custom Menu Soundtrack. Creating
Chapters in a Movie. Editing Chapter Titles. Adding Submenus.
Adding a Slideshow. Burning a DVD. Burning a VCD.



11. Sharing Movies with Streaming Video.



Saving a Movie for Sharing Via Email. Saving a Movie for the
Web. Uploading a Movie to the Web Using SmartFTP. Saving Movies for
Pocket PC Playback. Transferring Movies to a Pocket PC.