iLife for Windows
Apple's iLife is a great suite for managing and editing your movies, music, and photos with an affordable collection of software applications... if you have a Mac. If Apple ported it to Windows, I think they'd sell a million copies overnight because the apps are all incredibly easy to use. While software bundles like Roxio Easy Media Creator and Nero 7 Ultra Edition include everything plus the kitchen sink for media editing and management, they both fail to make the process as elegant as using Apple's iLife. Microsoft hasn't stepped up to the plate to offer all the features, although Windows Vista does include some of the features in the Premium and Ultimate flavors. Here's my list of apps to build your own iLife suite for Windows.
Making Music
Apple's GarageBand makes it so easy to make music on your computer it's been incredibly hard to find anything that competes on Windows. When Acoustica released Mixcraft, I finally found a winner. Mixcraft comes with an integrated loop library with over 6000 loops. Mixcraft supports additional loops from outside vendors, including the Apple Loops loved by GarageBand users. Beat matching and music key matching work llike a dream. You can adjust audio up and down with a rubberband tool inside each track in your composition. If you're inclined to record your own music, Mixcraft supports both instrument and vocal recording. Mixcraft can auto-tune. Mixcraft includes a built-in piano for composition and full MIDI support. In terms of file output, Mixcraft is actually better, because it supports MP3, WMA or OGG output instead of being limited to AAC as the only option. It also supports video editing, though I'd still recommend a separate app for that.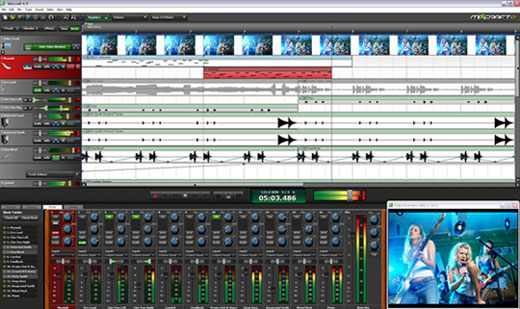 Photo Editing and Management
Picasa, which is part of the free Google Pack, is my favorite choice for photo management and simple photo editing. If you want something that compares to iPhoto, Picasa comes closer than any other app. It provides outstanding sorting features for photos, including keyword tagging, date sorts, and individualized albums. A built-in Web album uploader makes it easy to publish photos to the Web. You can create a number of different specialty picture items, from DVDs, to posters, to picture collages. Basic editing features include red eye removal, resizing, color and contrast correction, and a straighten feature to fix crooked images. Until you get serious about image editing, Picasa will take you a long way.
Making Movies
Windows Movie Maker is the perfect starter solution for editing movies. You can add movies from a camcorder, edit movies from files on your computer, work with mixed photo and movie projects, add narration and soundtracks. The version of Windows Movie Maker included with Windows XP does most of the things anyone wanting to edit their home movies could want. Vista steps it up a notch, offering support for high definition video cameras in the Vista Premium and Vista Ultimate.
Making DVDs
If you have either Windows Vista Premium or Windows Vista Ultimate, making DVDs with the bundled Windows DVD Maker is an obvious choice. It includes a nice selection of menu and button choices for building DVD menus, with the option to create your own custom menus. You can add slide shows to your DVD, choose from 4:3 or widescreen 16:9 display of your video, building out a reliable DVD that should play in virtually any set top DVD player.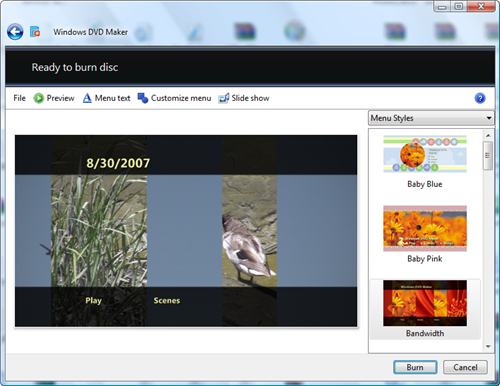 If you're still using Windows XP, you'll need some kind of alternative to Windows DVD Maker. MyDVD is the clear winner, with more custom features for making DVDs than any other consumer option. MyDVD does photo slideshow disks with up to 999 images. MyDVD lets you create fully customized menus, including using a video as the menu background. You can create custom chapter points to jump to your favorite parts of any video. If you have more than two hours of footage or old VHS footage, MyDVD does a good job of optimizing disk space for the quality of video you hope to fit on a single disk.
Download MyDVD for DVD authoring
In summary:
The iLife equivalent for Windows XP is:
Piscasa for Photos
Mixcraft for Music
Movie Maker for Movies
MyDVD for DVD authoring
The iLife equivalent for Windows Vista is:
Picasa for Photos
Mixcraft for Music
Movie Maker for Movies
DVD Maker for DVD authoring