How to Sync Google Calendar with Outlook and Smartphones Automatically
My big complaint about Google Calendar was lack of support for easily syncing calendar data with my smartphone. I use Outlook for my personal information management because it's still the only thing that puts all my data in one place the way I want it. Google Calendar's iCal export made manual syncing with Outlook possible, but I want to get all my calendar data from my computer to my phone automatically. There have been several third party solutions that attempt to address this with varying levels of success. Just recently, Google released Google Calendar Sync, completely addressing the automatic sync between Outlook and Google Calendar. Google still hasn't addressed automatic sync of Contacts with Gmail and Outlook. For that you need CompanionLink.
Here's how you can sync Outlook with Google Calendar automatically:
First download Google Calendar Sync and install it.
After installation is complete, enter your Google Apps account id and password. Choose whether you want 2-way sync, Outlook to Google only, or Google to Outlook only. Also enter the frequency in minutes of how often you want to synchronize your calendars.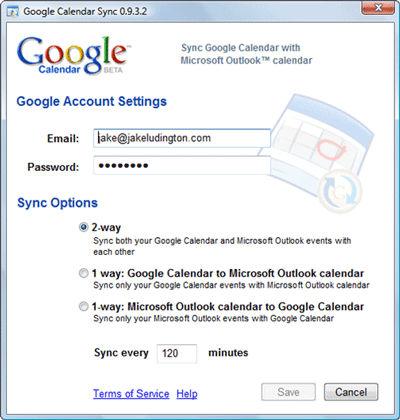 Once you're finished, Google Calendar Sync automatically starts combining the two calendars (which took roughly 10 minutes for 400 items in my test). Your Smart phone settings will then automatically sync with Outlook to grab any Google Calendar items.
Items added to your Google Calendar will now automatically appear in your Outlook calendar and sync with your phone based on your sync preferences.
See Also: How to Automatically Backup Outlook